by Beverly Donnelly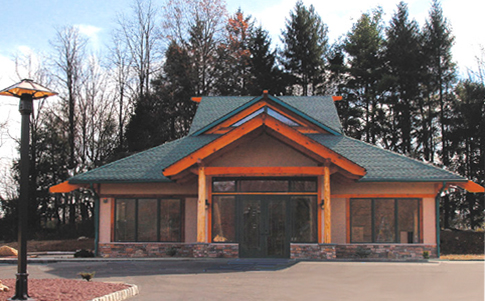 Well, it's almost ready for business – Blairstown's first "green building"! In case you don't already know, Blairstown Chiropractic and Holistic Wellness Center has a new home! Soon they will be moving from their present location at 18 Stillwater Rd. to their new holistic wellness center located at 143 Route 94 in Blairstown. But that's not all; not only do they have a new look, but they also have a brand new name -they've christened themselves The Ascenza Wellness Center.
Pronounced "Ashenza", the name, which is derived from the Italian "ascendere", which means "to ascend", was chosen because it is in keeping with Dr. Sandy Giacobbe's philosophy of mind, body, spirit, health and wellness. It also has special meaning because it is his wife Maria's deceased Grandmother's name. Maria Ascenza was a woman who cared very deeply about people, and embraced and nurtured everyone she met. In her hometown, in Italy, Maria Ascenza was known for her great compassion and healing herbal remedies.
The address of the new center has special meaning because the numbers "143" represent the words "I Love You" in Morse code. And, if you were ever a follower of "Mr. Rodger's Neighborhood," the children's television show, you'd know that he always wore a tie with the numbers 143 on it. Between the significance of their new name and address, the Giacobbe's feel that their new location is especially fitting for a healing and wellness center.
The almost 4,000 sq. ft. facility offers a variety of services that allow patients and clientele the opportunity to heal themselves naturally and to develop a fitness routine that will keep them healthy. Among the services provided are chiropractic care, energy balancing, the Ioncleanse detoxification system, nutritional counseling, massage therapy, yoga, meditation and qui-kung. Other natural, holistic modalities will be added later.
The center will also be hosting lectures, seminars and events to provide information and education on the benefits of alternative health care and how to incorporate these complimentary services into our lives.
The new center's design was a collaborative effort by Dr. Sandy Giacobbe, his wife Maria and Janus Welton of Echo-Arch DesignWorks located in Woodstock, New York. In the design, Ms. Welton used principles from Sacred Geometry and Feng-Shui and incorporated "green" technology including Solar Panels and efficient heating and cooking systems.
The design and style is mainly influenced by the craftsman style of construction and design which features vaulted ceilings and quiet space, exposed beams and natural slate throughout which bring in the elements from nature. Every one who has seen the place has remarked on its great energy, beauty and quiet serenity.
Robert Marches of Prestige Contractors in Blairstown was the construction manager for the project and was responsible for overseeing much of the site work and building construction.
Sun Farm Networks installed the Solar Panels. The design uses the same philosophy that Dr. Giacobbe applies in his practice of holistic medicine — to use holistic and alternative resources to create a beautiful building and keep it environmentally friendly and functional. Renae Jensen of Design Harmony Feng-Shui and Ginny Zaboroneck of Helios Design helped provide direction in choosing the color palette for the center in order to give the place the right "feeling" that the Giacobbe's were looking for.
The paint used throughout the building is environmentally friendly, and comes from the Benjamin Moore Eco Spec line, which was purchased at Paint n' Place in Denville. Ed Smith of Sign Language will soon be completing their new sign.
The Giacobbe's would like to extend a warm thank you to all who were involved in making the dream of their wellness center come true. The Wellness Care model that is part of the center's offering is designed to promote good health and wellness to patients through a total body, holistic approach to healing. Through the educational lecture series and events, information will be provided on how to make life style choices that support good health.
The center's goal is to give people an understanding of the value of alternative health care and a place to go where they can receive a variety of services that will de-stress, detoxify and prepare the body for optimal healing and wellness in mind, body and spirit. The holistic, common sense approach offered as an alternative to the traditional medicine allows patients to become actively involved and ultimately empowered regarding their own care.
Dr. Giacobbe has a strong belief that people can help heal themselves. "Their experience is critical to the complete holistic model and is the reason more and more people are looking to chiropractic care and other wellness services to obtain and maintain total body health. The human body is equipped to heal itself given the right opportunity and circumstances. A person heals themselves when blocks are removed that interfere with the body's natural healing ability. The physical blocks can be poor nutrition, poor nerve flow or poor circulation. By energetically restoring the flow of chi and restoring balance in the energetic flow, the body can heal," he says. "Through our Chiropractic service, I can assist the healing process by minimizing nerve interference by providing my patients with regular chiropractic adjustments and properly aligning joints. I believe that regular adjustments are essential for healthy and pain-free living."
He further explains, "Ascenza Wellness also has an ioncleanse program which assists the body with detoxification. The Ion foot bath can rid the body of impurities and toxins from the stress of every day life." The Ioncleanse system is a small unit placed in purified water to create "ionization" which is negatively and positively charged molecules that enter your body through the feet, attracting toxins in the body and dumping the toxins through the feet into the water." Many patients have benefited from it.
Ascenza Wellness will also provide a nutritional counseling program with information on the benefits of a healthy diet and whole food supplements. Maria Giacobbe is completing training as a Nutritionist and will soon be ready to help those who come to the center. A variety of massage therapies are offered that will assist the body's natural healing abilities. The Yoga, Qui-Kung and Meditation classes will quiet the mind and uplift the spirit, which is ultimately the key to complete Mind, Body, Spirit healing. Delia Quigley, the Yoga Instructor, will be actively involved in developing these programs.
Dr. Giacobbe is a holistic practitioner and the owner of the center. He is certified in energy balancing with over 8 years of practice and dedication to holistic energy medicine and a licensed Chiropractic Physician with over 18 years of experience in private practice. His techniques help to remove blocked energy due to trauma, disease, stress, and anxiety as well as mental and emotional blocks. Dr. Giacobbe's philosophy is "if you quiet the mind and balance the body, you can transform the spirit."
Ascenza Wellness is also about counseling patients on how to bring awareness to a health challenge by asking the following questions: are you holding on to anger, fear, guilt, self-judgment, etc? When these issues go unresolved, they can create blocks that are detrimental to health. Ultimately their goal is to "get the Mind, Body, and Spirit in a balanced state so that healing will take place," says Dr. Giacobbe. Maria Giacobbe is also the Director of Marketing and Public Relations for both Blairstown Chiropractic and Ascenza Wellness Center.
For more information, you can visit the Ascenza web site at www.bccgethealthy.com or ascenza.org or call them at 908-362-8767.