Interior Architecture and Design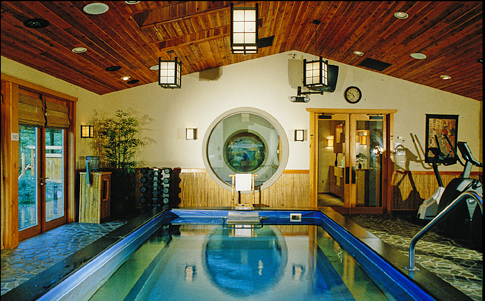 Concept:
In keeping with the Eclectic Theme of the Victorian Period Hotel Reconstruction, The Emerson Spa harkens back to Asian Exploration and the Japanese Bathhouse, where the pleasures of bathing, beauty, and health were practiced as a fine art.
The Timeless Ritual and Elegance of The Japanese bathhouse is interpreted in a theatrical Zen setting for the rejuvenation of Mind + Body + Spirit.
Feng Shui and The Five Elements
The main philosophy is to appeal and invoke all of the 5 Senses and The 5 Elements
The Sense of Smell is evoked with aromatherapy upon entry
Visually, the eye is bathed in the rich, deep colors of Red and Cinnabar – the color of Monk's Robes, Saffron – rich gold earth tones, and Deep Green – relaxation, Repose and Reflection
The Art, derived from Tibetan Mandalas, and a Goddess statue in the Lobby invoke powers of the sacred, symbolizing harmony of the experience with spirit and nature.
The Lobby, Exercise and Pool are bathed in sunlight from a series of skylights and French doors open from the pool and exercise room to the outdoor deck
A soothing Bamboo and ceramic water feature gurgles in the Lobby – setting the mood for guests upon registration
Site Orientation and Meditation Garden:
The building is oriented North / South with Openings to the Southern Exposure. The cardinal directions offer a powerful Energy – more like that of a temple.
The entry Lobby is situated in the highest energy field quadrant as laid out with the Classical Feng Shui Lopan – identifying the subtle energy fields
The main treatment rooms, Lobby, Exercise, and Pool area are oriented along the best energy zones – denoting creativity, fame and status while The wet rooms and shower / dressing rooms are located along the rear of the building where the element of water is used to balance less auspicious energy zones.
By defining the Energy Quadrants, the use of colors and building and finish materials are employed where required for creating natural balance.
Environmental and Ecological Features:
The use of natural stone, natural Sisal Carpeting, Bamboo Flooring and healthful, non-toxic materials such as ceramic tiles are used liberally to eliminate out-gassing and potential adverse health challenges.
Natural bamboo wall coverings and bamboo laminates on the built-in casework and cabinetry.
Natural stone is used liberally in the water feature and pool areas.
Custom Design Details:
Custom designed Silk Noren Curtains mark the path between doorway and circulation and spatial elements
Custom design and detailing in Lighting Fixtures and Japanese Light Sculpture in the Exercise room
Custom Accessorizing with Oriental Antiques
Zen Inspired Floral Arrangements were custom designed for the Spa