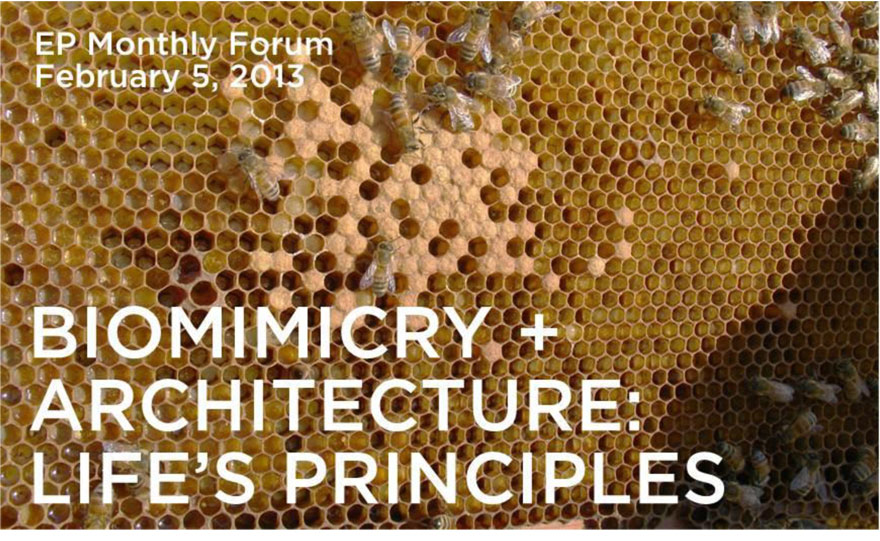 Biomimicry (from bios, meaning life, and mimesis, meaning to imitate) is a design discipline that seeks solutions by emulating nature's time-tested patterns, techniques and design strategies to solve man-made challenges.
The Emerging Professional's February Monthly Education Forum will introduce the practice and art of Biomimicry – on the cutting edge of science, technology and design through the lens of Biomimicry's "Life's Principles". Examples in the built environment will be featured to illustrate how functional biology systems are employed as blueprints to help designers, engineers, architects, and business leaders meet sustainable design challenges; to create buildings, products, processes, and policies that are well-adapted to life on earth over the long haul by emulating nature's 3.8 billion years of genius.
SPEAKER
Janus Welton, AIA, CSBA, LEED AP BD+C, Biomimicry Specialist,
EcoArchitecture DesignWorks, PC
Janus is an educator, consultant, and registered architect in New York, New Jersey, and California. Her career spanned 15 years in Los Angeles as Senior Design Architect in residential resort development at Vito Cetta-Randy Washington Group in Santa Monica, in entertainment design at Disney Imagineering, and as Director of Concept Architecture at Sony Development. In 2000 she formed EcoArchitecture DesignWorks, PC. in NY| Hudson Valley to focus on sustainable architecture, energy efficiency, building biology, and Biomimicry in architecture, interior design, and planning. She has served as Assistant Professor at Sage College of Albany and at SUNY Ulster; she leads the SBA- National Sustainable Building Advisor Certificate program and is Director of the SBA program in NYC. She is both a founding member of Biomimicry NYC and Biomimicry 3.8 graduate as a Biomimicry Specialist.
Contact Info: ecoarchitect@hvc.rr.com | www.JanusWeltonDesignworks.com | 845-247-4620